Sarah Nemtsov:
"New music is still much more an "adventure"
Sarah Nemtsov is a German composer and teacher, laureate of many awards and grants. Her works are performed at world famous festivals such as the Donaueschingen Music Days, Darmstadt Summer Course, Munich biennale, ICSM World New Music Festival, Musica in Strasbourg, ECLAT and others. This year Sarah has participated as a teacher in the "Сomposition Courses reMusik.org", also presented one of her recent works – "weggeschliffen" (2018). For reMusik.org Journal, Sarah Nemtsov shared the story of the creation of the composition, talked about her teaching experience and how the lockdown affected the composer's work.
— Sarah, how do you deal with the restrictions caused by the pandemic? How did this affect your composing and teaching work?
In 2020 I wrote several pieces: two orchestra pieces, several ensemble and chamber music pieces, a music theatre project, and almost all premieres got canceled and/or postponed. After a while, it felt really frustrating, I have to say. Although, compared to other artists, I also felt lucky and grateful, as I still could write, and the commissions itself didn't get cancelled. But without hearing anything I wrote, I kind of felt "lost". Like in a dark tunnel. Yet it was not a bad thing probably. Eventually, I overcame the frustration and felt I just needed to let go. And this was a positive experience. Like something would be freed. I felt more and more I came to an essence.
— Some works of the festival program were statements on the topic of isolation and pandemic. Do you have any works on this topic, or, are you planning to write something on this matter?
Actually, the topic of isolation is very important for my work in general, and for a long time already. You can find the topic in many of my compositions. In 2018 I composed "En Face" for Solo Percussion, Actor and big orchestra. Based on the text "Einsamkeit" (solitude) by polish-jewish writer Bruno Schulz (1892–1942). The solo percussionist has his/her own space, own "room" on stage. The instruments are placed and hung around him/her on four, possibly interconnected high stands. The instruments are less classic percussion instruments, but more objects. The solo percussionist plays only with his/her hands! 2 microphones are attached to the wrists. Hitting the instruments and movements therefore always "zoom in" into a sound, or into an instrument/object. The sounds are taken under a microscope. The hands often make extra movements after the attack to capture resonances, to amplify, and to rhythmize them.
The soloist moves in his/her room, where he is both protected and defenseless. Basically, this solo part is about a special form of choreography (and coordination). At the same time, inwardness. The soloist has no mallets (the usual "weapon" of a drummer), hands become ears. The virtuosity is thus of a different kind, it is more of an inner space and a virtuosity of sensibility. In 2020, during the first (or was it the second?) lockdown, I wrote a solo version – without orchestra and narrator. It was a reaction to the situation. It's written for and dedicated to the wonderful percussionist Aleksander Wnuk, who also premiered the orchestra version. He premiered the solo version just now – on May 30th at Musica Electronica Festival in Wroclaw.
"Should I tell you that my room is walled up?…In what way might I leave it? Here is how: Goodwill knows no obstacle; nothing can stand before deep desire. I have only to imagine a door, a door old and good, like in the kitchen of my childhood, with an iron latch and bolt. There is no room so walled up that it will not open with such a trusty door, if you have but the strength to insinuate it." (Bruno Schulz)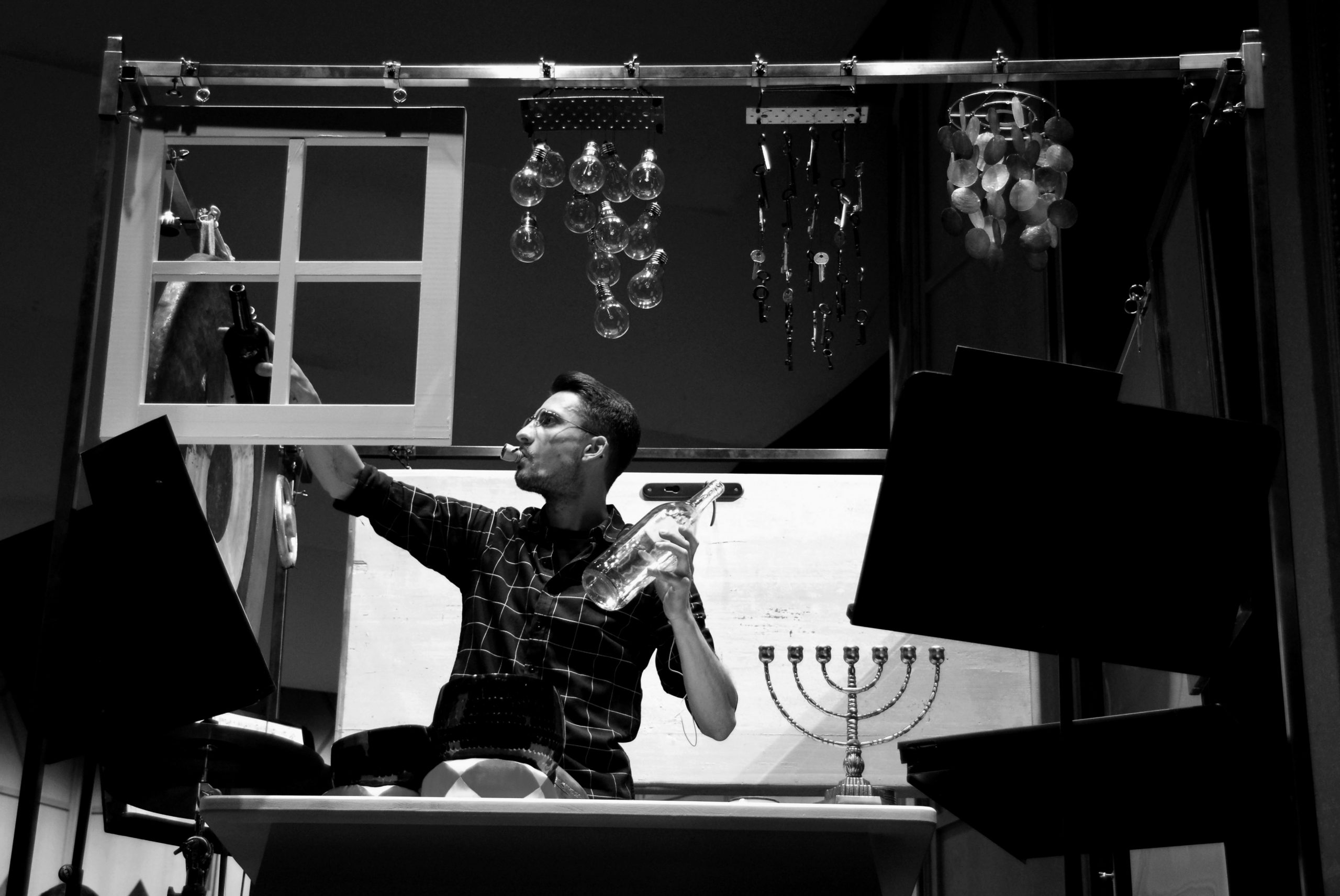 — What did cooperation with the reMusik.org festival open for you? In your opinion, how can the festival evolve over time?
It was a very intense, rich, beautiful and inspiring week, it opened many things for me. Meeting all these young and talented students – and getting to know their music a bit – was a treasure. The personalities, aesthetics and approaches were really diverse (and international), which is great. The hybrid concept – online and offline, was a fantastic opportunity in these difficult times of the pandemic. I was lucky to be able to come to St. Petersburg and finally meet "real" people and listen to live concerts after months of lockdown. I was impressed by the energy of the musicians. That was a special gift. And of course, all this in the beautiful city of St. Petersburg – between rain and sun. The reMusik.org team is absolutely wonderful and dedicated. I feel it's really important to support such a festival at a place, where new music is still not so supported and much more an "adventure", if not saying a "risk". As for the future, I would hope for a bit more female presence (tutors and participants), but I think we are here in a (also more global) process (of change hopefully), where all who have the possibilities and opportunities should take part.
— Tell us please about the "weggeschliffen" composition. What is the history of writing and what was the world premiere?
I wrote my string quartet "weggeschliffen" in 2018 (while I was 4 months in Israel, teaching composition at the Department of Music, University Haifa). It was commissioned by the Nomos quartet (from Hanover); this quartet had also premiered my string quartet "I'm Andenken" from 2007 based on a Schubert fragment. For the new piece they asked me to somehow work with Mozart Dissonance quartet. A difficult task. This quartet is very famous and also very dear to me and when studying I analysed it and made a piano transcription of the second movement. So I felt I could deal with it only in a very abstract way first. I was trying to find dissonance and release in the harmonic fields I created. I was very interested to work on microstructures and I was interested in pitch and harmony, rhythmic structures revealing and blurring chords. The Mozart came in as a quote finally – but as a ghost – in reverse, and played with nylon wound sticks, so the pitches were not recognizable anymore, but a wide range of high pitched, granulated sounds. "weggeschliffen" – grinded away, sanded away. The quartet should be amplified (sounds in zoom) and quite late in the piece some effects come in. Sudden: some basic reverb (on the whole quartet), so suddenly we are in a different hall – and some effect pedals for three of the performers with guitar effects. However, I stated in the score, it's possible to perform the quartet without amplification and without effects. It would then be like a drawing compared to the painting (of the same motif) with oil colours. In Saint Petersburg it was performed by the marvellous Quatuor Diotima in the beautiful new concert hall of the Mariinsky theatre (the acoustics are incredible) – it was the premiere of the acoustic version, so to speak. First time without electronics. I was very happy with this premiere.
— You were a visiting lecturer at Haifa University, and taught composition and musical theater classes in Cologne. Does this experience help you in the "Composer Courses"? How different is your approach and the way you are working with students?
Every teaching experience helps. And the teacher teaches students but students teach the tutors as well. Guiding a student over some time and seeing development and changes is something special and beautiful. If you are teaching at a course, there is a completely different energy, I would say. But it's great as well. At the "reMusik.org" festival I was giving almost 30 individual lessons – offline and online. So I had an hour for each student, it was a challenge, but incredibly inspiring, too. As I mentioned before – getting to know so many talented students in a short period of time, is really like a firework. If I have only an hour for each student, I feel I need to be quick in my mind. I need to focus on the essence (and not lose too much time with details). I just hope to give some impulses, giving new perspectives, creating a space for analysis and reflection, initiating maybe some further development. I try to feel what could be helpful, to share thoughts and criticism (hopefully constructive), especially where I see there is artistic potential hidden, not yet fully revealed. I try to put some question marks here and there for future reflection to actually strengthen the individual voices.
— Tell us about your masters of composing. Who has influenced you the most?
My teachers: Johannes Schöllhorn (who told me – among so many other things – "instinct is analysis" and Walter Zimmermann (who remembered me – among so many other things – "listen inside"). I admire both of them as teachers, composers and human beings and am deeply grateful to have been their student. Chaya Czernowin was important – I took lessons only twice – (course) – but they had a huge impact and kind of changed something essentially for me. I follow and admire her work as well as of many other composers (contemporary music and also other "genres"). My first music teacher was very important, the baroque musician, recorder player Ilse Reil. Many other people, musicians, artists were and are important and are an influence. Isn't it great about our world: how we can inspire each other? (So much better than destroying each other.)
— What musical direction do you prefer to write music in? Do you often use microtones in your compositions?
Yes, I use microtones a lot. But not systematically. Or – at least not in a "common" system – neither plain sound, spectral or anything like that. I often create a certain harmonic "world" for a piece that I "walk" in, and microtones are part of these systems. I cannot name one direction. I think or hope I have many directions, however in every piece I am also looking for some kind of a new challenge, sometimes the "new" (at least for myself) is stronger, sometimes very subtle, some things stay for me for a while and I am exploring them over several pieces, sometimes I get some musical "obsessions" with things. I do not know if this answers the question. Generally I am interested in polyphony, for a long time I was interested in theatrical gestures in combination with sounds and objects, then I was more occupied with electronics, for some time I was interested in layers and also in noise, now I am somewhere else again and hopefully somewhere else in the future.
— In your opinion, are there any new trends in the performances of contemporary music? I feel like space and silence is filling the compositions more and more.
This is true, at least in the pieces I have seen and listened to through the festival, there was much more space and silence. Maybe this is a reaction to the past year, but maybe not. Generally, I feel contemporary music is getting more and more open and is much less ideological – at least for the sounds speaking.
— Are you teaching anywhere else now?
I am teaching at the Darmstadt summer course as composition tutor (the summer course was postponed from last year) and also this summer I am teaching at the Synthesis composition course in Poland. I am giving some private lessons and teaching at some institutions from time to time (master classes, lectures etc.). At the moment this is good for me, because I need time to compose: I am writing two big operas over the next two years: "Ophelia" for the Staatstheater Saarbrücken and "Wir" (after Zamjatin's Мы) for Opera Dortmund.
Teaching and being at the reMusik.org course was a wonderful experience. Thank you for the invitation and big thanks to everyone involved.