Friday, 21 May 2021
Mariinsky Theatre Concert Hall
19:00
Quatuor Diotima (France)
The program:
Sarah NEMTSOV (*1980)
weggeschliffen (Russian Premiere, 2018)
Oscar BIANCHI (*1975)
Sintonia, String Quartet No. 3 (Russian Premiere, 2021)
Sergej NEWSKI (*1972)
String Quartet No. 3 (2009)
Bruno MANTOVANI (*1974)
String Quartet No. 7 (Russian Premiere, 2021)
Performers:
Yun-Peng Zhao, violin
Constance Ronzatti, violin
Franck Chevalier, viola
Pierre Morlet, violoncello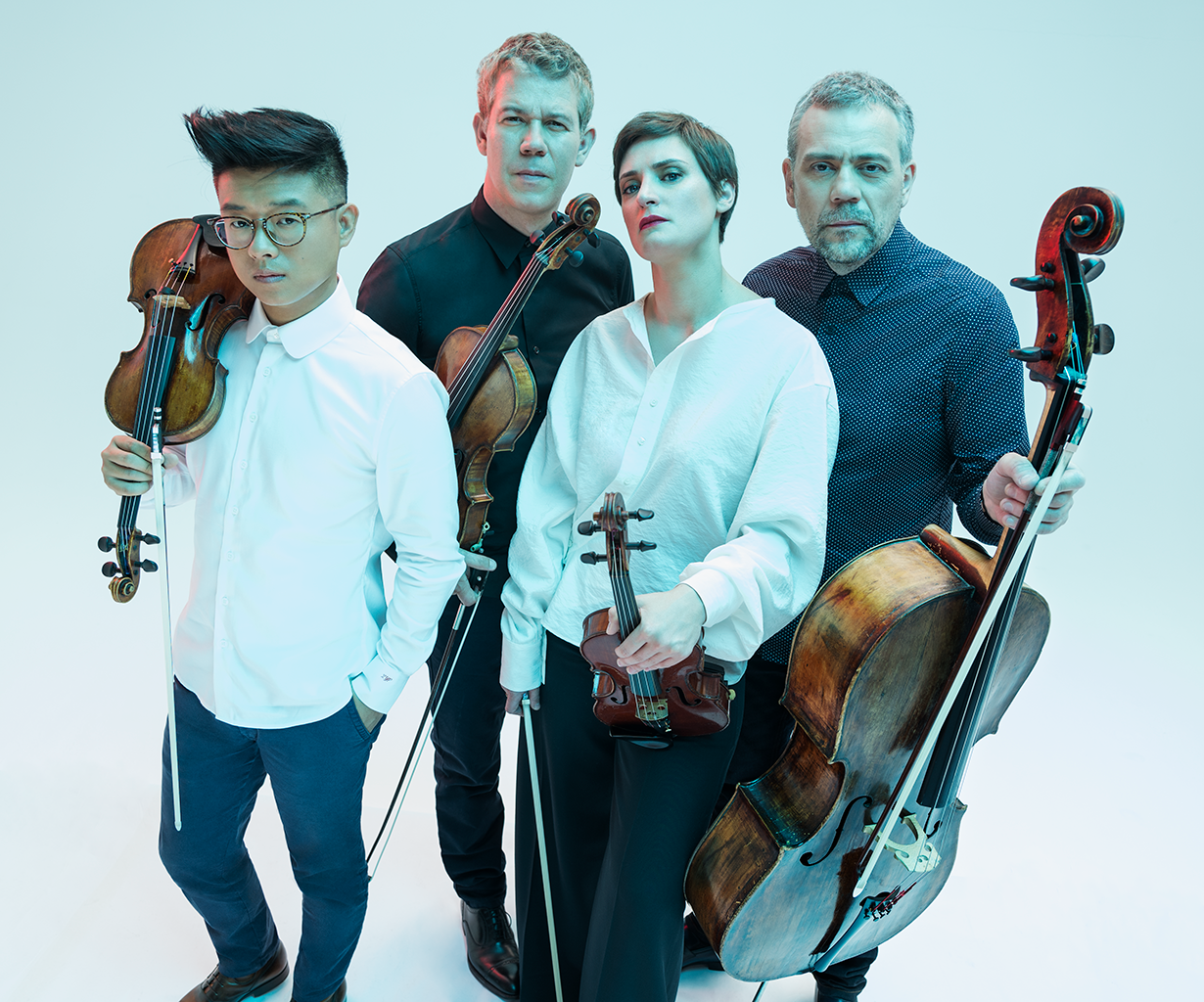 The Quatuor Diotima is one of the most in-demand chamber ensembles in the world today; it was formed in 1996 by graduates of the Paris national conservatory (Conservatoire National
Supérieur de Musique de Paris). The quartet's name evokes a double musical significance: Diotima is at once an allegory of German romanticism – Friederich Hölderlin gives the name to
the love of his life in his novel Hyperion- and a rallying cry for the music of our time, brandished by Luigi Nono in his composition Fragmente-Stille, an Diotima.
The Quatuor Diotima has worked in close collaboration with several of the greatest composers of the late twentieth century, notably Pierre Boulez and Helmut Lachenmann. The quartet regularly commissions new works from the most brilliant composers of our time, including Toshio Hosokawa, Miroslav Srnka, Alberto Posadas, Mauro Lanza, Gérard Pesson, Rebecca Saunders and Tristan Murail. Reflected in the mirror of today's music, the quartet projects a new light onto the masterpieces of the 19th and 20th centuries, especially Beethoven, Schubert, the Second Viennese School (Schoenberg, Berg and Webern), as well as Janáček, Debussy, Ravel and Bartók.
The Quatuor Diotima has recorded exclusively for the Naïve label for ten years; in 2016 they launched their Diotima Collection for that label, devoted to the works of major composers of our time. The first releases in the collection, devoted to Miroslav Srnka and Alberto Posadas, are to be followed with musical portraits of Gérard Pesson, Enno Poppe and Stefano Gervasoni to be released within a box at Naïve in 2021. In addition, chamber music by Mauricio Sotelo will be presented on an album.
Since 2008 The Quatuor Diotima has had a privileged relationship with the Région Centre-Val de Loire, which hosts the quartet in residence. This relationship is also an important laboratory for artistic and pedagogical projects. The Quatuor Diotima has developed a series of quartet concerts in Orléans that brings together a new generation of quartets with established ensembles. At the l'Abbaye de Noirlac, the quartet hosts and teaches master-classes that bring together young composers and quartets from around the world.
This season the quartet performs in renowned chamber music series as well as those devoted to world premieres and contemporary music. 2021-2022 also marks the highlight of having been
nominated as "Artist-in-Residence" of renowned University of Chicago. Quatuor Diotima plans three longer stays including performing, workshops and teaching.