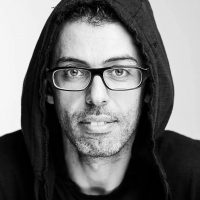 Dmitri Kourliandski, born 1976 in Moscow, graduated from the Moscow Conservatory and completed post-graduate course led by Leonid Bobylev. His compositions won prizes at the international composers competitions, including the Gaudeamus Prize 2003, Gianni Bergamo Classic Music Award 2010, Johann Joseph Fux opera composition competition 2011, Andrey Voznesensky foundation "Parabola" prize 2016, Franco Abbiati 2017 Prize of Italian music critic. In 2008 he was artist-in-residence of the Berliner Künstlerprogramm and in 2010 – composer-in-residence of the 2E2M ensemble in Paris. Since 2012 he is invited to give master-classes and lectures in Austria, Italy, The Netherlands, Ukraine, France, Israel, Spain, Switzerland, Russia.
His chamber opera Swerlians was staged by Boris Yukhananov in 2012 and 2015 in Moscow. In 2013 chamber opera Asteroid 62 was staged in Graz (directed by Barbara Beyer) and in Moscow (directed by Kapitalina Tsvetkova-Plotnikova). Opera Nosferatu, staged by Theodoros Terzopoulos, Jannis Kounellis and Teodor Currentzis in 2014 in Perm and in Moscow. Opera Octavia.Trepanation was premiered at Holland Festival 2017, staged by Boris Yukhananov. Performance installation Commedia delle arti, was commissioned and presented for the Venice Art Biennale Russian pavilion 2017. Opera-installation Nekyia with video by Elena Nemkova was premiered at Voznesensky centre in 2019. Opera Eurydice, directed by Anyone Gindt will be staged in Italy, France and Germany, 2020-2021.
Portrait CDs were published at the FANCYMUSIC, Kotae records and Col Legno labels.
Dmitri Kourliandski is the founder and artistic director of the International Young Composers Academy in Tchaikovsky city. Co-founder of the Structural Resistance group (StRes). Musical director of the Stanislavsky Electrotheatre.
He collaborated with such musicians as Teodor Currentzis, Fedor Lednev, Philipp Chizhevskiy, Dmitry Vasiliev, Susanna Mälkki, Roland Kluttig, Reinbert de Leuw, Beat Furrer, Mario Brunello, SWR orchestra, MusicAeterna orchestra, Orchestre national de Lyon, Arturo Toscanini foundation orchestra, Stockholm New Chamber Orchestra, Moscow symphony orchestra, Omsk and Yekaterinburg philharmonic orchestras, ensembles 2E2M, InterContemporain, KlangForum Wien, Contrechamps, Phoenix, Collegium Novum Zurich, Schoenberg/ASKO, Recherche, l'Itineraire, KNM, Elision, Nadar, Quatuor Diotima, MCME, Studio for New Music, N'Caged, QuestaMusica and many others. His music is heard at Donaueschinger Musiktagen, Ruhrtriennale, Venice biennale, Holland festival, Huddersfield festival, Musica Strasbourg, Wien Modern, MaerzMusik, Acht Bruecken, Archipel, Musikprotokoll and many other festivals and concerts in Europe, South and North America, Asia and Australia. He has received commissions from many Russian and European festivals, ensembles and foundations.
His works are published by Donemus, Editions Jobert and Le Chant du Monde.
Since 2016 performs together with sound artist Andrey Guryanov in an electronic open dance music duo KGXXX.
Музыка Курляндского регулярно звучит на фестивалях, включая Донауэшинген, Хаддерсфилд, Руртриеннале, Венецианскую биеннале, «Варшавскую осень», MaerzMusik, Musica Strasbourg, Wien modern, Archipel, Transart, Klangspuren, Elektra Montreal, ISCM WMD.
Композитор сотрудничал с дирижерами: Теодором Курентзисом, Федором Ледневым, Филиппом Чижевским, Сюзанной Малькки, Райнбертом де Леу и другими.
Среди исполнителей произведений Курляндского: оркестры SWR, MusicAeterna, Московский симфонический оркестр, ансамбли KlangForum Wien, Schoenberg, intercontemporain, МАСМ, Recherche, 2e2m, Contrechamps, Quatour Diotima, eNsemble, Студия новой музыки, N'Caged, Questa Musica.
Сочинения издаются Donemus, Editions Jobert и Le Chant du Monde. Авторские альбомы выпущены на лейблах FANCYMUSIC и Col Lego.
Один из основателей группы композиторов Сопротивление Материала («СоМа»). Член Союза композиторов России; художественный руководитель Международной академии молодых композиторов в Чайковском (Россия). С 2013 года – музыкальный руководитель Электротеатра Станиславский.
kourl.ru