The Saint Petersburg Contemporary Music Center reMusik.org is organizing for the first time during the Festival an international forum "New Music", which will be held in an online format to unite experts from different countries. The forum will discuss topics related to curatorial practices, digitalization, environment, composer's experiments, and online composition. Musicologists, composers, performers, theatre directors will gather from Russia, United Kingdom, Norway, Austria, Luxembourg and France.
The forum will highlight aspects of the presence of new music on stage, on screen, its forms, and acceptable genres. Dmitry Otyakovsky will discuss formats of digital opera and prospects for expressing new compositional ideas, new technologies for AR-operas, and give an updated look at the film-opera. Olesya Platonova will focus on electroacoustic experiments and their role in French film music. Anna Ganzha will examine screen arts. Evgeniya Izotova will talk about forms of collaboration between composers and performers in the framework of online collective composition. David Cotter will explore types of remote collaboration. Adam Martin and Jacob Thompson-Bell will discuss sensory studies, the peculiarities of combining music, and other art forms. Tom Parkinson will highlight the influence of theories of contextual perception on composition. Vera Geslin will present the concept of instrumental scenography by Christophe Lebreton at the intersection of theatrical, composer, and choreographic thinking. Lucia Agaibi and Martina Kalser-Gruber will talk about choreographed instrumental theater of Otto M. Zykan and HK Gruber. Aspects of interaction with the environment will be discussed by Sasha Elina, which focuses on new ways of positioning the listener in the space of musical situations and approaches to listening as such. Finally, James Hesford will present The Circles Project with collaboration among artists working with various mediums.
A separate series of presentations is dedicated to contemporary music festivals. What is the role of the artistic director, what is the choice of works based on, what are the criteria and concepts. These and other aspects of the festival will be revealed by experts from different countries. Martina Kalser-Gruber will cover major Austrian festivals, such as Wien Modern, Klangspuren Schwaz, and aspekteSALZBURG. As part of a special interview, Lydia Rilling, Chief Dramaturg at Philharmonie Luxembourg, Artistic Director of the rainy days festival, and from 2022 Artistic Director of the Donaueschinger MusikTage will talk about her experiences in managing major music festivals, current trends, and her activities as a music critic and art director.
An important topic of the Forum is curatorial practices in contemporary music. Sergej Tchirkov will devote his presentation to the role and authority of curator, the composer-performer-listener chain and narratives in contemporary musical practice. Vladimir Rannev, Pavel Gershenzon and Olga Manulkina will talk about curatorial projects in contemporary musical theater ("performance as a project") and on the concert stage and they will discuss how curators and critics are trained in the master's program "Musical Criticism" of the Faculty of Liberal Arts and Sciences of the St. Petersburg State University. Vladislav Tarnopolsky will discuss modern curatorial practices and present the team of the new educational profile of the Moscow School for the Social and Economic Sciences (Shaninka), the master's degree in Curatorship of Musical Projects.
The Forum is a platform for discussing new music, interdisciplinary art, and perspectives on curatorial initiatives. It is open to experimentation, creativity, and discussion.
Dr. Lidia Ader
Curator of the New Music Forum
Saturday, May 22nd
Digitalization and Environment
Session in Russian
13:00
Dmitry Otyakovsky (Russia)
Stage Director, Head of the Opera troupe of the Voronezh Opera and Ballet Theater
Digital Opera, – is it a paradox of the pandemic time or a new genre?
13:25
Evgeniya Izotova (Russia)
Associate Professor of the Department of Contemporary Music, Director of the Studio for New Music ensemble of the Moscow State Conservatory named after P. I. Tchaikovsky
Studio for new music on broadcasting: an experience of collective online composition
14:50
Anna Ganzha (Russia)
Associate Professor at the National Research University Higher School of Economics
Musical sublime in modern screen genres
15:15
Olesya Platonova (Russia)
Senior Lecturer of the Department of Musical Pedagogy and Performance of the Nizhny Novgorod State Conservatory named after M. I. Glinka
From Mysticism to Science Fiction: Electroacoustic Experiments and Their Role in French Film Music in the 1950s – 2010s.
15:40
Vera Geslin (France)
President of the Association for Artistic and Technological Innovation LiSiLoG, Doctoral Student at the Research Laboratory Passages XX– XXI, Musicology Department, Université Lumière Lyon 2,
The concept of Instrumental Scenography developed by Christophe Lebreton
16:05
Sasha Elina (Russia / UK)
Laboratory curator at the Moscow International University, MA at the University of Huddersfield
Indoor and outdoor musical situations: working in an open environment
16:45
Vladislav Tarnopolsky (Russia)
Head of the musical department of the Moscow School for the Social and Economic Sciences (Shaninka), Lecturer at the Department of Contemporary Music of the Moscow State Conservatory named after P. I. Tchaikovsky
Can one teach or learn to be a musical curator?
Sunday, May 23rd
Artistic Practices and Experience
Session in English
13:00
Lucia Agaibi (Austria)
Postgraduate student at the University of Music and Theater Graz
Martina Kalser-Gruber (Austria)
Scientific staff at the Danube University Krems
From the sewing machine to Frankenstein. The choreographed instrumental theatre with Otto M. Zykan and HKGruber
13:25
James Hesford (UK)
Composer, Performer
The Circles Project
13:55
David Cotter (UK)
PhD Student at the Department of Music, University of Cambridge
Remote Collaboration: Communication, Creativity, and Latency
14:20
Adam Martin (UK)
Curriculum Manager at the Leeds Conservatory
Jacob Thompson-Bell (UK)
Principal Lecturer for Postgraduate Studies at Leeds College of Music
An Artistic Exploration of Cross Modality
14:55
Tom Parkinson (UK)
Lecturer in Digital Composition at the Royal Holloway University of London
Context as Compositional Material
15:20
Martina Kalser-Gruber (Austria)
Scientific staff at the Danube University Krems
The Impact of Reputation in the Field of New Music. The Artistic Directors of Austria's New Music Festivals
Monday, May 24th
Curatorial Practices
Session in Russian
17:00
Sergej Tchirkov (Russia / Norway)
Researcher at the Moscow State Conservatory named after P. I. Tchaikovsky and at the Faculty of Music, University of Bergen
Building trust or concepts? (Ex)Tended curatorial practice
17:30
Olga Manulkina, Pavel Gershenzon, Vladimir Rannev (Russia)
Head and teaching staff of the Master's program "Musical Criticism" at the Faculty of Liberal Arts and Sciences, St. Petersburg State University
Critic + Curator: Smolny's Formula
Wednesday, May 26th
Interview in English
17:00
Lydia Rilling (Luxemburg)
Chief Dramaturg at Philharmonie Luxembourg & Artistic Director of the rainy days festival, from 2022 Artistic Director of the Donaueschinger MusikTage
Curatorial Projects in Contemporary Music
Poster Session
Maria Larionova (Russia)
Student of the St. Petersburg National Research University of Information Technologies, Mechanics and Optics
Generative music as a new form of creativity
The annual St. Petersburg International New Music Festival is among the main projects through which reMusik.org pursue its mission. The largest festival of new music in Russia takes place at the end of May during a period of famous White Nights in distinguished venues around the city, including the Mariinsky Theatre Concert Hall, the New Stage of the Alexandrinsky Theater, New Holland, the St. Petersburg State Conservatory and others.
The festival program has numerous educational highlights: master classes, pre-rehearsal talks, scientific conference, composition course, presentations, educational lectures, training lab for music critics, workshops and reading sessions with soloists and several ensembles.
The festival is presented by world-famous musicians and well-known ensembles, both classical and experimental ones, specializing in the new music performance. The reMusik.org Festival covers various areas of contemporary academic music – experimental, electro-acoustic, electronic music, multimedia projects, free improvisation and others.
One of the key ideas of the festival is to show the latest trends in the world of academic music. The program includes only world and Russian premieres of works created in recent decades. The music presentation format is not limited to traditional academic concerts and involves performances and experimental shows.
St. Petersburg Contemporary Music Center takes an active role in the organization of innovative projects and supports the promotion of new music. The Center is dedicated to building and educating a national and international community of composers, musicians, musicologists, and members of the public interested in learning more about contemporary music in Russia and new music as a whole. Additionally, its mission includes the support of composers and ensembles, music publishing, an academic research center, an online journal, and internet sites as well as the financial support of projects related to the sphere of new music in St. Petersburg.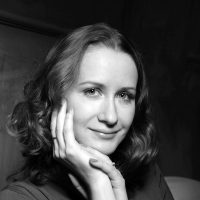 Dr. Lidia Ader
Curator of International New Music Forum
Musicologist, Senior Researcher at the N. Rimsky-Korsakov Memorial Apartment-Museum
Artistic Director at the Center for New Technology in the arts "Art-parkING"