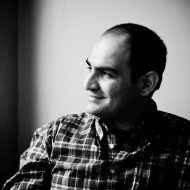 Mehdi Hosseini
Composer, Founder of the Saint Petersburg
Contemporary Music Center reMusik.org, Artistic Director
of the St. Petersburg International New Music Festival
Without a doubt the music of today – a subgrouping of the greater category of art – enjoys a mutual and creative confluence with culture per se, revealing its presence in spatial, temporal, psychological and other cultural capacities. Social participation is an essential component of human growth, accountability and civic cooperation and order. Therefore, presenting a New Music Festival in St. Petersburg allows the existence of a cultivated and refined programme which promotes lesser known musical works and not only provides an open platform for the current generation's musicians, but ultimately becomes part of a social phenomenon that provides the essential elements necessary for cultural dialogue and the advancement of artistic creativity. Born out of a social phenomenon, reMusik.org not only avails the new generation of musicians with an open platform – it sets up and promotes the very elements foundational to the advancement of new ideas and cultural initiatives.
Embracing the big picture of musical diversity, in particular, the taxonomy of contemporary classical music, — new music, contemporary music, whatever you call it, — is a challenging task, but it is necessary for understanding the music of the beginning of the twenty-first century.  However, often located at the intersection of various creative disciplines, each new composer's work indicates the presence of different approaches: a look on the traditional cultural heritage and processes, the interweaving of various interdisciplinary fields to create new sound forms, playing with shared technologies, languages, sounds and materials found.
The ongoing process of the development of music in the twenty-first century, in particular, of those areas that are presented at reMusik.org, reflects many recent musical languages created by the new generation of composers and is, from the point of view of its geographical coverage, a reflection of the general situation in connection with the current state of human society which is constantly evolving, experiencing the impact of important political, economic, social and cultural changes that take place around the world. Moreover, the composers, being a part of the civil society, also have an impact on these global trends, consciously or unconsciously capturing them in the works they create.
Consequently, the type of content, the forms and expressions of such musical compositions are the result of combining parameters that are very different from an aesthetic point of view, and the audience (in the case of aural and/or visual perception) may first find it obscure and have many questions. However, one of the key ideas and aims of the festival is to create a platform to facilitate open dialog between composers, musicians and the audience who are interested in new trends in the art of sound.