Monday, 24 May 2021
Icebreaker Krasin (Museum)
17:00
Dmitry Shubin
Machineria Octophonica, for 8 channels spatial electronics
Machineria Octophonica is a creation of multi-channel composition for electronics and objects by Dmitry Shubin. Spatial music generally refers to music that deliberately uses sound localization as a compositional technique. Spatial sound is associated particularly with electro-acoustic music and denotes the projection and localization of sound sources in physical or virtual space, or the directional movement of sound in space.
Spatial audio performance does take place in the huge engine room of the Krasin Icebreaker, which was built in 1916. The speakers of the 8-channel sound system are placed at various points of the space filled within the ship's hull and throughout the different decks, creating a single sound field, where the listening point predetermines what is heard. The industrial construction of the boat turns out to be identical to the acoustic construction of the space. The composition therefore works with "pure" sound, using the placement of speakers in space. The transfer of a performance to another space will lead to the complete change of the composition. In addition to the used electronics, there are also objects used in the composition which are the actual parts and details of the ship's machine. In this case, the sound is picked up by contact microphones and further processed by means of electronics.
The sound in this case is not "modeled", but completely depends on the peculiarities of the metal surfaces, tilt angles, and the re-reflections of the sound waves in the ship. In addition to the electronics and objects, the parts of the ship's machine themselves are also used in the composition. Field recordings are also used as sound material, for example, real noises of ship mechanisms or the sounds of ice beating against the hull of the ship going through an ice field.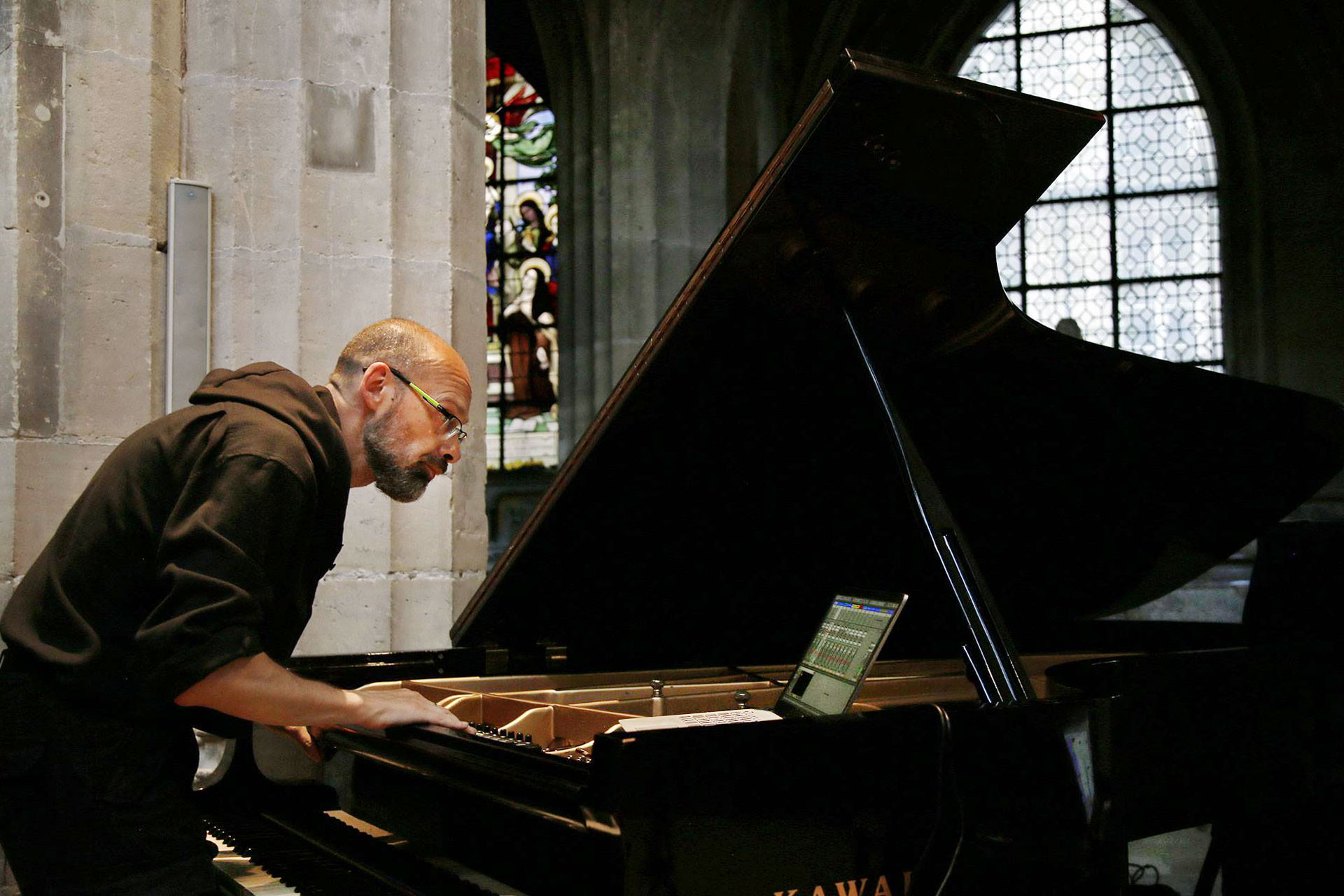 Dmitry Shubin is a pianist, improviser, and a conductor. He was born in 1963 in Leningrad where he works in various fields of contemporary music, from free jazz bands to solo work with electronics and sound art projects. The main areas of his musical interests: improvised music, electroacoustics, piano and electronics, spatial sound, conducted, and structural improvisation. He has participated in numerous concerts and festivals, creator and ideologist of various projects in the field of contemporary improvised music. Shubin is the founder and conductor of the St. Petersburg Improvisation Orchestra (2012), the first ensemble in Russia to work with conducted improvisations. He leads classes on theory and practice of improvisation at the School of Improvised Music (St. Petersburg). Shubin is the initiator of several projects like the Sound Theater, the exposition project of graphic notation "Graphics of Sound ", the Laboratory of Spatial Music, etc.). He is the art director of the St. Petersburg Sound Museum and the curator of the EPICENTROOM (since 2019) and "Sound: On" (2014-2019) festivals. Shubin is the laureate of the Grand Prix of The Sergey Kuryokhin Contemporary Art Award (2016).