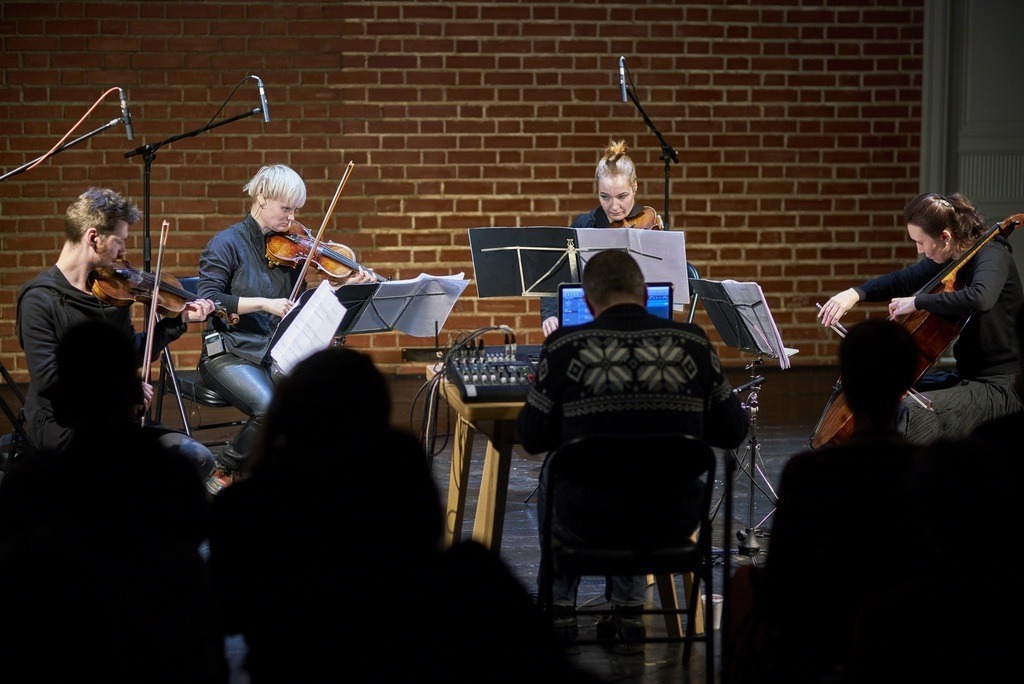 Thursday, 23 May 2019
Lumiere Hall
16:00
A&C Quartet (Russia)
The program:
Oscar BIANCHI (*1975)
Pathos of Distance (Russian Premiere, 2017)
String Quartet № 2
Alexander KHUBEEV (*1986)
Tactile Illusions (Russian Premiere, 2019)
for string quartet
Youshin GIM (*1997)
(Russian Premiere, 2012)
for violin solo
Amin SHARIFI (*1993)
Mise-en-scène II (Russian Premiere, 2019)
for string quartet
Oleg GUDACHEV (*1988)
Farewell, my sweet 9th floor… (Premiere of the new version, 2018/2019)
for cello and tape
Raphaël CENDO (*1975)
Substance (Russian Premiere, 2013)
String Quartet № 2
Performers:
Gleb Khokhlov, violin
Viatcheslav Tchirkunov, violin
Irina Sopova, viola
Julia Migunova, cello
The A&C String Quartet — where A&C stands for "Ancient and Contemporary" — was founded at the Moscow State Tchaikovsky Conservatory in 2016, when some of the most talented string virtuosi in Russia decided to unite under the flag of sheer authenticity and produce more truthful renditions of contemporary and 18th-century music .
The current line-up of the quartet includes Gleb Khokhlov (violin), Polina Babinkova (violin), Irina Sopova (viola) and Yulia Migunova (cello), who have won numerous music competitions, including the All-Russian Musical Competition and the Yuri Bashmet International Viola Competition as well as the International Musical Competition in Belgrad. Since 2017, the quartet has been especially focusing on the performance and popularization of the most innovative contemporary music, ranging from Minimalism (for example, "Different Trains" by Steve Reich which was very successfully performed recently at the Moscow Art Centre) to Spectralism. In addition, A&C aims at promoting pioneering composers such as Alexey Sysoyev, Sergej Newski, Alexander Khubeev and Nikolay Popov — perhaps the choicest selection of Russian utmost avant-garde composers.
In 2019, in collaboration with the Stanislavsky Electrotheatre and the Theatre of Nations, A&C has held two concert-cycles, "Spectral Music" and "Music of Continents", in which the quartet has presented both Russian and world premieres of some of the above-mentioned cutting-edge musical acts.