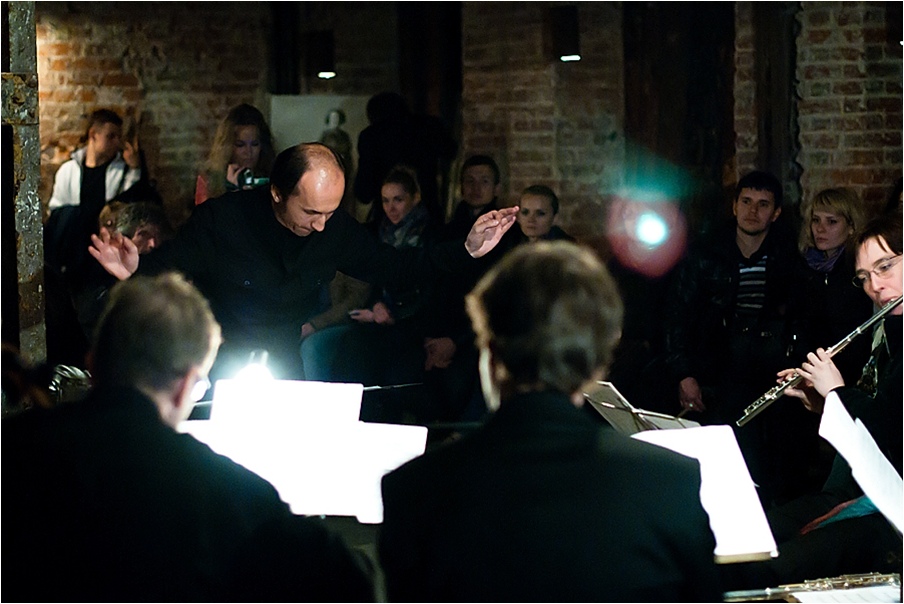 Thursday, 24 May 2018
New Stage of the Alexandrinsky Theatre
Media Centre
17:00
The Gallery of Actual Music Ensemble (GAMEnsemble) (Russia)
Conductor: Oleg Paiberdin
The program:
Svetlana LAVROVA (*1970)
Algo un poco español (Premiere, 2017)
for saxophone, cello, piano, electronics and video
Rico GUBLER (*1972)
Kubla Khan's Love Song (Russian Premiere, 2005-2006)
for piccolo and soprano saxophone
Oleg GUDACHEV (*1988)
Dark Cathedral (Premiere, 2018)
for five performers
Andrey BESOGONOV (*1990)
Selene Song (Premiere, 2018)
for piano
Gary BERGER (*1967)
Link (Russian Premiere, 1998)
for alto saxophone and live electronics
—  In Memoriam
Georgy DOROKHOV (1984-2013)
Topinambur (2009)
for flute, cello and piano
Performers:
Edyta Fil, flute
Andrei Kravchenko, saxophone
Yulia Migunova, cello
Mona Haba, piano
Nikolay Popov, electronics
The Gallery of Actual Music Ensemble (GAMEnsemble) was founded by composer Oleg Paiberdin in 2010 (Moscow, Russia). Soloists from several ensembles (Saxophone Quartet of Andrey Kravchenko, Flute Quartet of Svyatoslav Golubenko), Edyta Fil (flute), Feodor Amirov (piano), Daniel Ekimovsky (piano), Sergei Astashonok (cello), Vladislav Naroditsky (violin), Grigory Dyachenko (tuba), Andrei Vinitsky (percussions) and other musicians have entered into staff of the ensemble. Many of them participated in Moscow Philharmonie's programs The Philharmonic Debut and The Young Talents, and are soloists of Moscow Philharmonie.
The basic mission of GAMEnsemble is performance of new music with accent on the works written for last 15-20 years by contemporary composers, initiation of interdisciplinary projects on crossing of musical and visual aspects in arts. Works of domestic and foreign musical avant-guard classics of the XX century are included in GAMEnsemble's programs as well.
One of GAMEnsemble's main purposes is formation of actual zones of modern music art where freely there are basic art strategies – the newest chamber music, improvisational music, visually-acoustic performances and video art, mutually incorporating and creating uniform art process. GAMEnsemble closely cooperates with contemporary composers, artists, choreographers, directors, animators, word and theater masters.