Third Place
Saturday, 4 July 2020
19:00
Mikhail Krutik, violin (Russia)
The program:
Alyssa ASKA (*1985)
The only water in the forest (Premiere, 2021)
for violin and delays
Zhuosheng JIN (*1991)
Pale Flower IV (Premiere, 2021)
for violin
Jeeyoung YOO (*1984)
Papierdrachen und Spiegel (Premiere, 2021)
for violin and live-electronics
Carlos NUNEZ MEDINA (*1985)
Crystal Gen I (Premiere, 2021)
for violin
Gérman TORO PÉREZ (*1964)
Rulfo / voces II (Russian Premiere, 2005/06)
for violin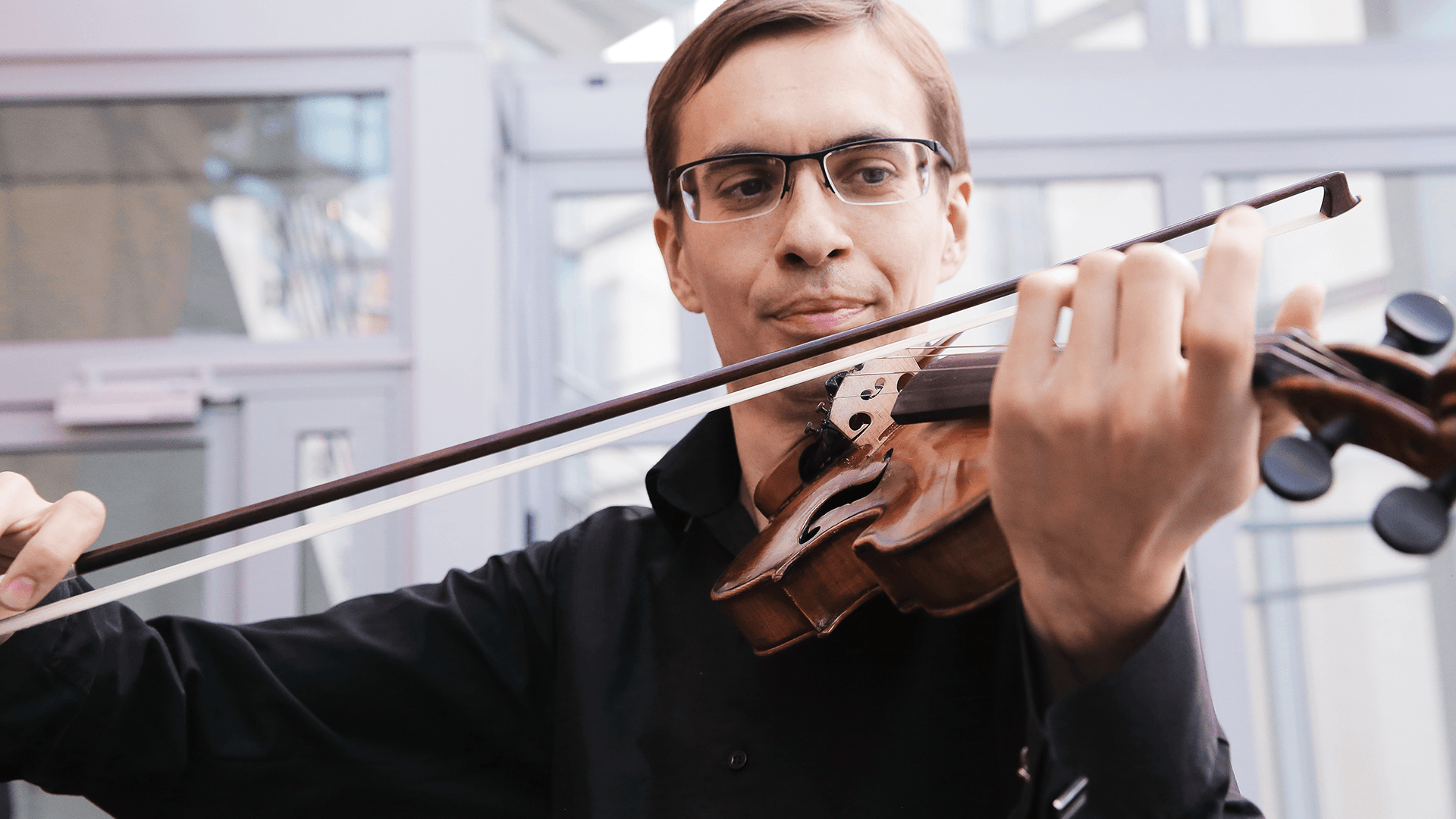 Mikhail Krutik is a violinist and composer. He was born into a family of musicians in Krasnoyarsk in 1980. He graduated from the St. Petersburg State Conservatory in 2003, and following there he also completed an internship in 2003-2005. He is laureate of the International Youth Competition of Performers and Composers (2001, St. Petersburg), the Max Reger Chamber Ensemble Competition (2002, Sondershausen), the 20th Century Music Competition of Valentino Bucchi (2002, Rome).
Krutik has been playing the violin with the Symphony Orchestra of the St. Petersburg State Philharmonic since 1999, in 2008 he took a post in the orchestra of the second concertmaster.
As a soloist, he has performed with the Mariinsky Theater Orchestra, German collectives the Klassische Philharmonie Nordwest and the Neue Philharmonie Hamburg, Chamber Ensemble "Soloists of St. Petersburg". His solo concerts took place at various and beautiful concert venues throughout the magical city of Saint Petersburg as the Grand hall and chamber hall of the St. Petersburg Philharmonia, the Mariinsky Theatre Concert Hall, the Moscow State Conservatory, the Glinka Museum, Beethovenhalle in Bonn, Rudolf-Oetker-Halle in Bielefeld and others.
Since 1994 has been active as a composer. In 1995 he was awarded a diploma at the International Youth Composition Competition "I Am A Composer" (St. Petersburg). His music is regularly performed in such festivals as Sound Ways, St. Petersburg Musical Spring, Land of Children, Festival of Remembrance and others.
In 2003, 2004 and 2011 he participated in the composition project held by the Pro Arte Institute 'Pythian Games', in 2004 he was awarded the prize for the composition "Twenty Seven". His work for Films won the Black Square Prize, the Kinoshock Film Festival and the 49th October Salon in Belgrade. In 2016, the Moscow label FANCYMUSIC released Krutik's chamber music album. In 2017, he became composer in residence of the Krasnoyarsk State Philharmonic Orchestra.