Thursday, 27 May 2021
Sheremetev Palace (Museum of Music)
18:00
Vacuum Quartet
The program:
Luca VALLI (*1985)
Picana (Russian Premiere, 2017)
for amplified prepared string trio and live electronics
Haotian YU (*1998)
after Xin Qiji III (Premiere, 2021)
for amplified and prepared string quartet
Amir KHALAF (*1981)
Rhombos "study for motion and resonance" for String Quartet (Premiere, 2021)
for string quartet
Stefan PRINS (*1979)
Ensuite (Russian Premiere, 2008/2010)
for cello
Víctor BÁEZ (*1985)
Remur (Premiere, 2021)
for string quartet
Nadir VASSENA (*1970)
rivolto verso il mare (Russian Premiere, 2011)
for viola and cello
Dmitri KOURLIANDSKI (*1976)
Maps of non-existent cities. Bludenz (Russian Premiere, 2014)
for string quartet
Darya ZVEZDINA (*1990)
The boy with a wolf eye is melting and there is nothing i can do (Russian Premiere, 2020)
for string quartet
Performers:
Gleb Khokhlov, violin
Vyacheslav Chirkunov, violin
Emil Salaridze, viola
Yulia Migunova, cello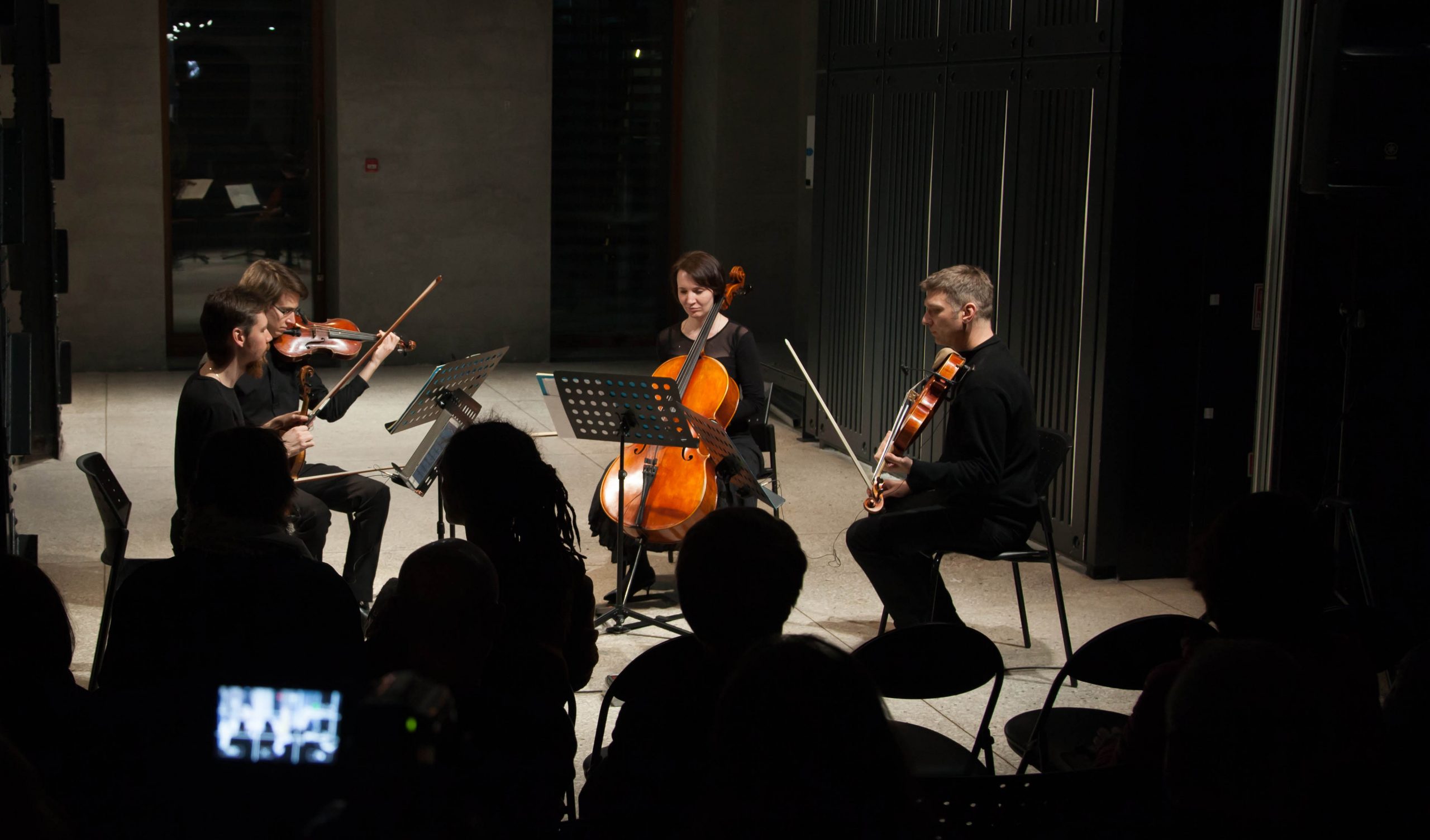 The string quartet "Vacuum Quartet", formerly known as the A&C String Quartet was created in 2016 at the Moscow State Conservatory. Initially, the team included musicians of the Faculty of Historical and Contemporary Performing Arts (FISII) at the Moscow Conservatory. The main task of the group was to perform music of the 18th century in a historically correct form.
Currently, A&C SQ specializes in the performance and promotion of the latest quartet music. The ensemble's repertoire includes works by composers of the second half of the 20th and early 21st centuries from composers such as Georg Friedrich Haas, Helmut Lachenman, Giacinto Scelsi, Giulio Colangelo, Steve Reich, Osvaldo Golijov, Franck Bedrossian, Dmitri Kourliandski, Toru Takemitsu and others.
In 2019, the quartet took part in the 6th St. Petersburg International New Music Festival "reMusik.org" and in the Academy for string quartets "Casa del Quartetto" in Italy. In January 2020, the A&C string quartet gave a concert at the Karusel Contemporary Art Festival, featuring world premieres of young Russian composers in Dresden, Germany. In November 2020, the team took part in the X International Academy of Tchaikovsky  in Russia. The quartet's musicians collaborated with such composers as Oscar Bianchi, Allen Gassin, Yair Klartag, Helmut Lachenman, as well as Olga Raeva, Alexey Sysoev, Sergei Nevsky, and Alexander Khubeev. In November 2020, the quartet changed their name to "Vacuum Quartet".