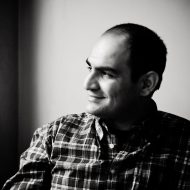 Mehdi Hosseini
Composer, Founder of the Saint Petersburg
Contemporary Music Center reMusik.org, Artistic Director
of the St. Petersburg International New Music Festival
The music world and the live music scene in particular with its creative community have faced the biggest challenge ever with the appearance of COVID-19. In response to this unprecedented situation, reMusik.org organized for the first time ever a highly successful online music festival in July of last year with many streamed concerts and composers conducting online educational master classes. Despite the many logistical difficulties we are still encountering in 2021 due to the Coronavirus Pandemic, I am delighted that this year the audience and the performing music artists of the International Festival will meet not online, but in person, and so experiencing the concerts 'live' together at the most historical and cultural venues in St. Petersburg.
This year reMusik.org has indeed much to celebrate. The St. Petersburg International Festival has become a feature event for 'New Music' in Russia and as a whole in the world of contemporary music. While the 2021 music event is the 8th festival, reMusik.org is celebrating its 10-year anniversary by offering a wide variety of contemporary classical music to its audience. The beautiful concert halls will host many renowned music artists, ensembles, and celebrated composers from Europe and around the world.
Throughout its short history, reMusik.org Festival has evolved much. This year's concert program highlights more participating artists and concerts than ever. With their performances they present interactive music exhibitions, showcasing how the played sounds can be connected with the various phenomena in our immediate environment around us, objects and sounds that we encounter and interact with every day. The expansion of the festival was also in a huge part due to the success of its educational program, which was made available to many talented musicians and composers during the past years. Educational courses and master classes that are offered by reMusik.org challenge participants to explore music styles, experiment with innovative sounds, and approaches to perform New Music. In this way emerging talented composers have the opportunity to find their own voice and perform music that is meaningful to them, while adding to the richness of the ever expanding music experiences.
The growing interest in New Music is based on a combination of music appreciation and various cultural aspects that bring more and more music lovers together, as New Music provides a space for new experiences and in-depth discussions. In doing so, this event does not only create an open platform for a new generation of musicians to perform, but also provides the necessary elements for cultural dialogue that makes it possible to promote new ideas and support investigative and experiential journeys into New Music.
The realization of this exciting two week music exhibition would not be possible without the many supporters reMusik.org can count on. The backing of different organizations and the support of many governments make it possible for the festival to present its international music platform and to be the special and extraordinary event it is. My particular appreciation goes out to the Russian Ministry of Culture and the St. Petersburg Government, who assisted reMusik.org with its logistical and organizational needs. On behalf of reMusik.org and the entire team, let me express my sincere gratitude to all those who have and will support the St. Petersburg International New Music Festival for years to come. I wish everyone an enjoyable festival with wonderful music experiences of a lifetime.
Sincerely,
Mehdi Hosseini, Artistic Director
St. Petersburg International New Music Festival