Monday, 24 May 2021
Catherine Assembly
20:00
Alexey Potapov, electric guitar and classical guitar (Russia)
The program:
Anna POSPELOVA (*1986)
Pulse Action (Premiere, 2021)
for electric guitar
Andrey BESOGONOV (*1990)
Burn Me (Premiere, 2021)
for classical guitar
Rubens ASKENAR (*1982)
Taranta (Russian Premiere, 2015)
for classical guitar and smartphone
Karlheinz ESSL (*1960)
Sequitur VIII (Russian Premiere, 2008)
for electric guitar and and live electronics
Dai FUJIKURA (*1977)
Sparking Orbit (Russian Premiere, 2013)
for electric guitar and electronics
Jake ADAMS (*1996)
Sky and Water (Russian Premiere, 2020)
for classical guitar
Thomas KESSLER (*1937)
Guitar Control (Russian Premiere, 1999)
for guitar and live electronics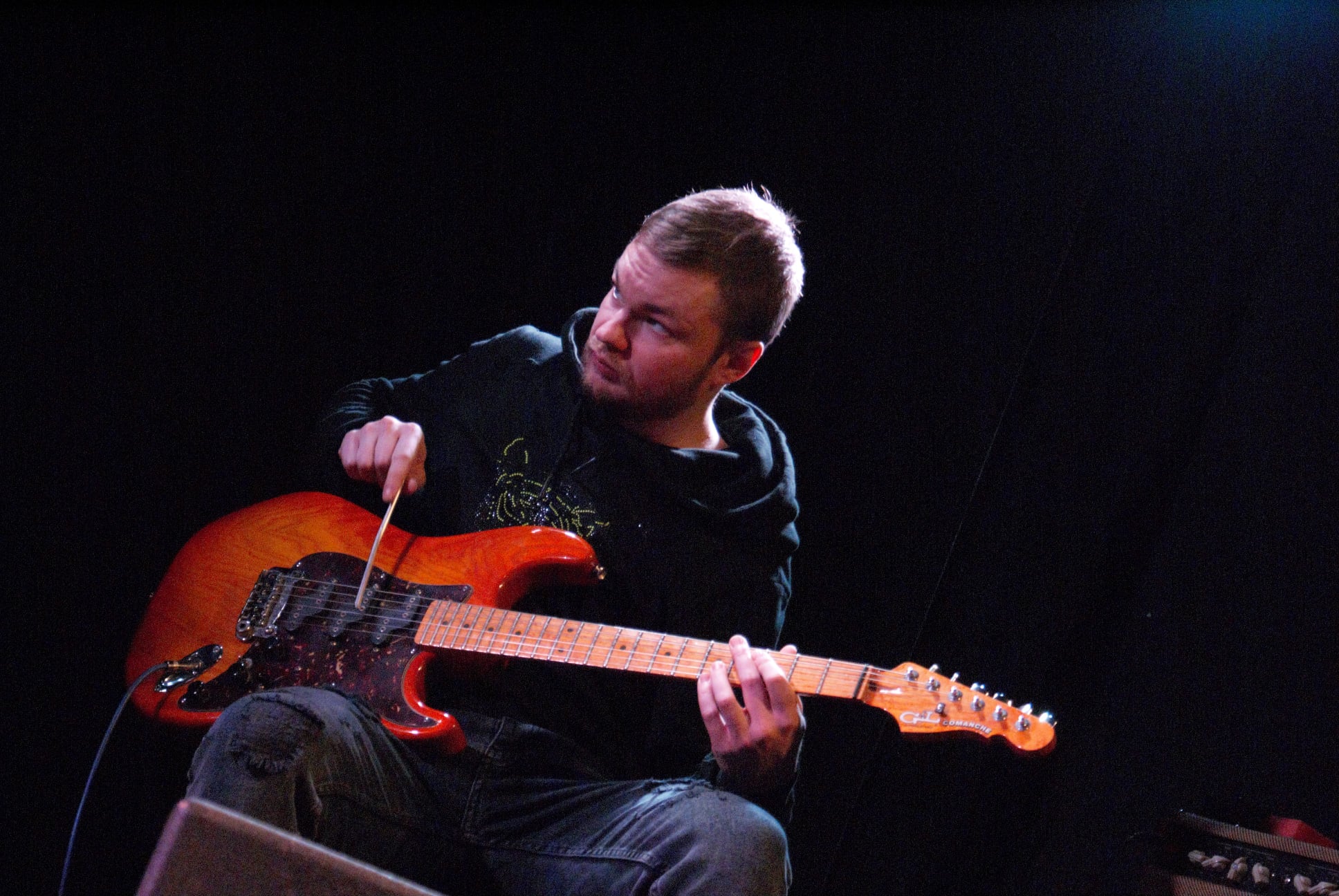 Alexey Potapov is an electric and classical guitarist and a laureate of international competitions. He was born and raised in the Volgograd. Potapov graduated from the Music College of the Volgograd Conservatory named after Serebryakov and the Gnesin Russian Academy of Music. He studied classical guitar under Sergey Matokhin, Alexander Frauchi and Dimitriy Illarionov. He also undertook a qualification apprenticeship at the Contemporary Music Department of the Moscow State Tchaikovsky Conservatory under the tutelage of composer Vladimir Tarnopolski.  
As a soloist and a participant he collaborates with leading new music ensembles and orchestras such as GAMEnsemble, Studio of New Music, and the State Academic Symphony Orchestra of Russia "Evgeny Svetlanov", the Tchaikovsky Symphony Orchestra, and more.
Alexey Potapov participates in both academic and improvisational music performances and projects. His repertoire covers a wide stylistic spectrum from classical and ancient music to modern music and free improvisations. A number of compositions were written for Alexey by Moscow composers including Nikolay Popov, Alexey Nadzharov, Andrey Besogonov, Anna Pospelova, Evgeniya Bril and more. He performed a considerable number of both Russian and world premieres.
Today theater is also an integral part of Potapov's life. He took part in the following theatrical performances of the Center for Drama and Directing: "Mama" by Vladimir Pankov, "It's All About Her" by Philip Vinogradov, "Alyona Chizhuk's Diary" by Alexey Razmakhov, as well as in "Norma" by Maxim Didenko at the Drama Theatre on Malaya Bronnaya (music by Alexey Retinsky). He is also a musician of the "CooperationLab" project.