Friday, 3 July 2020
20:00
Les Percussions de Strasbourg (France)
The program:
Raphaël CENDO (*1975)
Scratch Data (Russian Premiere, 2002)
for solo percussion
Philippe HUREL (*1955)
Ritual Trio (Russian Premiere, 2018)
Arturo CORRALES (*1973)
IDEM (Russian Premiere, 2010)
version for marimba and four percussionists
Oscar BIANCHI (*1975)
Aqba, Nel Soffio Tuo Dolce (Russian Premiere, 2005)
Vladimir RANNEV (*1970)
Branle of angels (Premiere, 2020)
Performers:
Flora Duverger
Minh-Tâm Nguyen
François Papirer
Enrico Pedicone
Rémi Schwartz
Thibaut Weber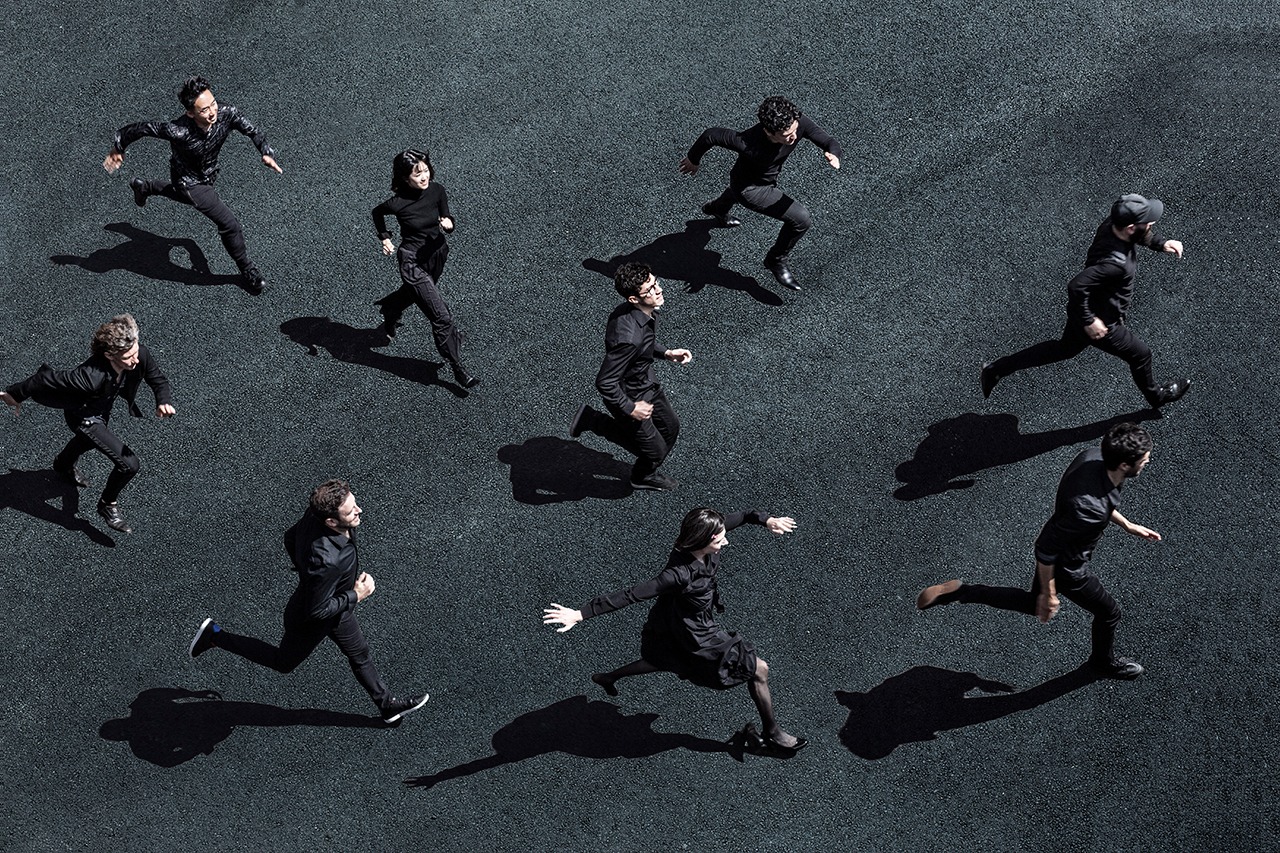 Oldest ensemble of contemporary music in France, with an exceptional repertoire, Les Percussions de Strasbourg are internationally recognized and respected for the quality of their performance and their ability to create and innovate. The ensemble has performed more than 1700 concerts in 70 countries since its inception, has a repertoire of more than 350 original works, has developed one of the most unique 'instrumentarium' in the world with over 500 instruments, has published over 30 recordings, and been awarded more than 30 international prizes… among which a « Victoire de la Musique classique » in 2017 for the 1st release of the new record label Percussions de Strasbourg,  Burning Bright by Hugues Dufourt.
It all began in 1959, when Pierre Boulez was invited to conduct his work Le Visage Nuptial in Strasbourg. To form the large desk of percussions he needed, musicians from the Strasbourg Orchestra and the ORTF orchestra were brought together. The six young musicians – Bernard Balet, Jean Batigne, Lucien Droeller, Jean-Paul Finkbeiner, Claude Ricou and Georges Van Gucht – driven by a common innovative will and a strong friendship, then decided to create a percussion ensemble: repertoire, choice of instruments, everything had to be invented… the « Groupe Instrumental à Percussion » was born and later became « Les Percussions de Strasbourg ».
The first concert was given at the ORTF, on January 17th, 1962, in the presence of French composer Serge Nigg. Very quickly, the ensemble inspires the creation of a new repertoire by composers such as Messiaen, Stockhausen, Serocki, Kabelac, Ohana, Xenakis, Mâche or Dufourt … As Pierre Boulez says later: « A repertoire was necessary for the Groupe, but the Groupe has made the repertoire necessary. »
In 1967, the six percussionists perform Ionisation by Varese, in agreement with the composer, while the score requires the participation of… thirteen percussionists. They carried this off with musical mastery and dramatic brio and opened the doors of success to a hitherto unprecedented musical genre.
Thereafter, the Percussions de Strasbourg will create and innovate relentlessly, travelling all around the world in major international festivals, from Berlin to Osaka, Persepolis to Sydney, via Royan, Donaueschingen, Edinburgh, Athens, Israel, Sao Paulo, New York, Montreal, etc.
Through their many travels and a strong collusion with the composers, they actively contribute to the sound research and the invention of new instruments, such as the sixxen designed by Xenakis.
More than 50 years later, the team expands and gradually integrates the fourth generation of Percussions de Strasbourg. Constantly revisiting the contemporary heritage, innovating with the evolution of new technologies and the expansion of scenic practices and expression: a challenge to invent and explore the wide field of world percussion in the 21st century.
The ensemble is also very active in pedagogy and develops many activities for everyone: masterclasses, workshops, concerts, educational or scholar concerts, Percustra collective creation workshops and training.