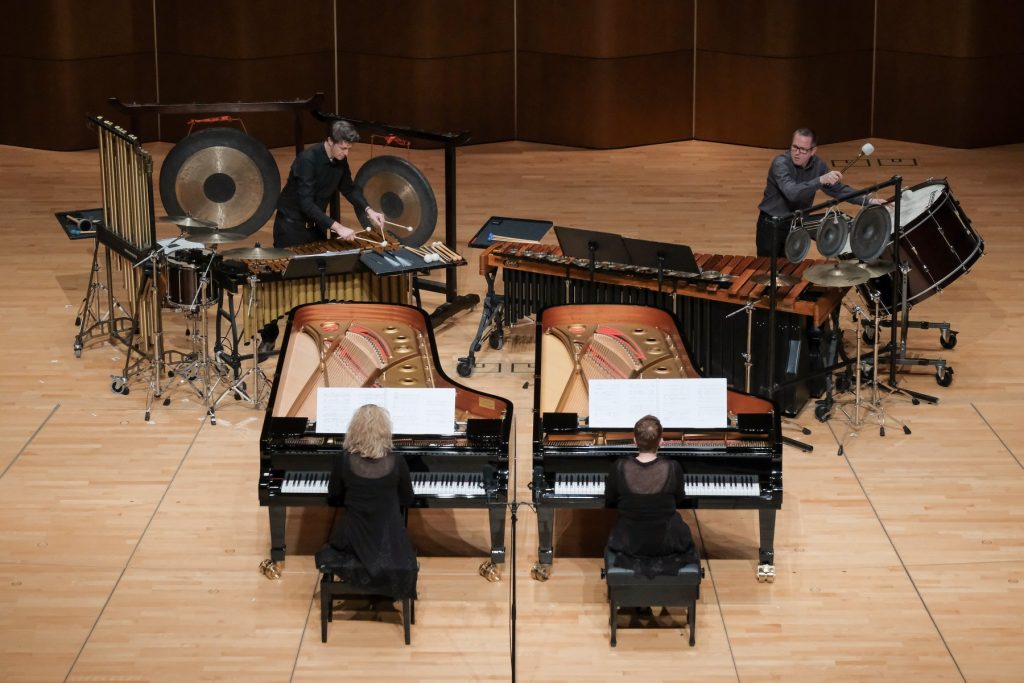 Saturday, 25 May 2019
Concert Hall "Jaani Kirik"
19:00
Makrokosmos Quartet (Switzerland)
The program:
Wolfgang RIHM (*1952)
Schrift-Um-Schrift (Russian Premiere, 1993/2007)
Oleg PAYBERDIN (*1971)
Blur (Premiere, 2019)
Xavier DAYER (*1972)
Sous la Voûte Etoilée (Russian Premiere, 2010)
Victor BAYEZ (*1985)
N-Bit Partition (Russian Premiere, 2018)
Martin MATALON (*1958)
Spin (Russian Premiere, 2018)
Performers:
Ufuk Dördüncü, piano
Bahar Dördüncü, piano
Sergi Sempere i Ramos, percussion
Sébastien Cordier, percussion
The Makrokosmos Quartet — comprising pianists Ufuk and Bahar Dördüncü and percussionists Sergi Sempere i Ramos and Sébastien Cordier — owes its name to the series of pieces for piano composed by George Crumb: the musicians played part of his cycle, "Music for a Summer Evening", in their first joint performance.
Prior to the establishment of the quartet, the four musicians gave numerous concerts in collaboration with other artists; most notably, the Duo Dördüncü were invited to perform with the contemporary music Ensemble Contrechamps. One of the Quartet's career-defining performances so far has been one of Bela Bartok's pivotal Sonata for Two Pianos and Percussion (1937).
The Makrokosmos Quartet combines percussive pianos with melodic percussion. They have been working in close collaboration with such composers as Heinz Holliger, Brian Ferneyhough and Stefano Gervasoni, and hope to enrich their repertoire with some new pieces by Philippe Hurel, Beat Furrer and Enno Poppe.
The Quartet has performed at the Label Suisse Festival in Switzerland, the Aujourd'hui
Musique Festival in France with a world premierе by M. Matalon and the Concerti della Normale Festival in Italy.
makrokosmos4tet.com